Poker Nights - Alllll Those Accessories...
Aside from the necessities like cards and a table, there are plenty of other accessories out there that can just make poker night more fun. Some are functional, some aesthetic, some just funny - but check these out, and see if any of them might be right for you...

Novelty Cards - Sure, Bicycles work fine, but there are some cards out there that can really wow your friends. Two I'd recommend are Kem Cards, which have the smoothest, most amazing plastic feel I've ever encountered. They're definitely worth a try - buy a couple of decks online. Also, for more novelty, try Invisible Playing Cards (search Google or Froogle for that term to find where to buy'em) - they're just plain cool. See below.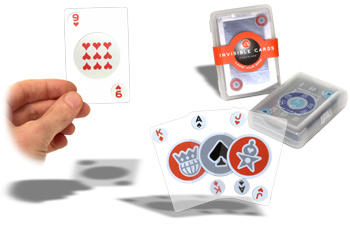 Shuffler - On the more functional side, this can make shuffling a bit quicker, and perhaps even more fun. However, when playing poker, remember that you only use one deck at a time - many of these shufflers are designed to mix 4+ decks, usually for BlackJack. In any case, there are mechanical and electrical models out there - check them out!
If there's other stuff out there that I haven't covered, I love to hear about it! (dave@davegustafson.com) In the meantime, though, let's talk about your Poker Night's
Environment...